Top10 Vienna Blog | Vienna Insider Tips and Experiences
Stay tuned with the Top10 Vienna Blog for Vienna Insider Tips and Experiences!

Continue your journey and explore the best things to do in Vienna, amazing restaurant tips, current events and more insiders about Vienna. #top10vienna. All articles are written by our Top 10 Vienna City Scouts and Affiliates and represent our own opinion and experiences in the most liveable city in the world.


10 Best Activities In Vienna For Groups
You are looking for some fun group activities in Vienna for a birthday party, a bachelor's party or some other occasion? We have selected some great activities that are perfect for groups and a lot of fun!
1. Bubble Soccer
Our partner BubbleSports offers Bubble Soccer at your most convenient location. If you don't have a field in mind, don't worry, the BubbleSports team will help you organize one for you!It may be a private area during a birhday party, a public event, or a fun event for your company, club or association. It can be played indoor as well as outdoor, in a school gym, an outdoor soccer field or some other spacious area. It is a perfect activity for groups, as you can always switch player - it gets pretty intense. Make sure you have enough players. The more, the merrier!
2. Wakeboarding
Wakeboard Lift Wien
is Vienna's only cable park where professional Wakeboarders as well as curious beginners can try their best. The lift is 832 meters long and 10 meters high. The
Wakeboard Lift
team will assist you and show you some tricks ;)What are you waiting for... get yourself a daypass or just a one hour pass for the beginning. It is really worth it! If you get tired, sit back and relax at the on-site Beach Bar & Restaurant
wake_up
! and enjoy a few cocktails with your friends.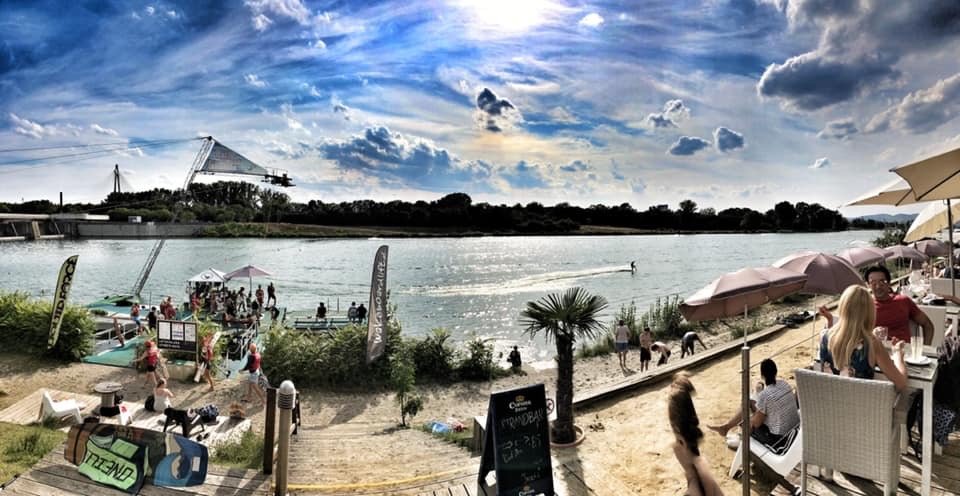 3. Soccergolf & Soccerdarts
At
Soccergolf Stockerau
, north of Vienna you can spend an entire afternoon on the field with your friends. As the name suggests, it is a combination of soccer and golf - hence you need to put the soccer ball into the hole. Alltogether there are now 27 alleys with various different obstacles, such as truck tires and bricks. Even if you are not a soccer player, this game is fun for everyone, kids, adults, boys and girls and it is the perfect group activity for a birthday or a bachelor's party.
You can add some extra fun at
Soccergolf Stockerau
with Soccerdarts. You shoot the sticky ball onto a giant dartboard and it sticks. You aim at the highest numbers (just as in real darts) and compete with your friends.
4. Secret Vienna Tours
Discover the beautiful city of Vienna and its hidden gems with tours like:
- The secrets of a dictator
- Vienna's bloody secrets
You can book private
Secret Vienna Tours
for you group as well. Find out more
here
.
5. Stand Up Paddling
You can rent SUP boards, SUP tandems, SUP XXL boards as well as kayaks and go out on the water with your friends.
SUP-Center Wien
has 3 locations in Vienna:
- Gänsehäufl
- Copa Beach
- Vienna City Beach Club
6. Bouldering
Blockfabrik
, known as the boulder hall in Vienna, is a gym only for bouldering. It is very modern and has some pretty difficult routes too. Compared to other gyms,
Blockfabrik
is much smaller creating a more familiar atmosphere. Therefore we consider it as one of the best gyms for beginners and groups.
7. Room Escape Game
At
SherLockd
game rooms are layed out in a way, you won't find out if you are in a single room or in a set of rooms. This makes the game even more exciting. You won't be able to stop time. A TV screen is counting down 60 minutes. One thing is for sure: The entrance is not the exit, or is it? You will only be able to answer this question if you solved various tasks. Find out what impact adrenaline and time pressure has on a person. Good team work is key!
8. Alt Wiener Schnapsmuseum
Founded as an old Viennese master craftsman company in 1875, to this day the
Schnapsmuseum
is still a specialist for high-quality spirits and liqueurs made following old, traditional family recipes. The entrance fee is EUR 7.00 per person and includes a half-hour, entertaining tour as well as an extensive tasting (guests who do not drink alcohol, are welcome to enjoy our real raspberry juice). The entire visit at the
Schnapsmuseum
lasts about an hour and is a fun activity for groups.
9. Culinary Sightseeing
Culinary Sightseeing
offers exclusively guided city tours to some secret places in combination with culinary delights of the special kind of traditional Viennese restaurants. Depending on your booked city tour you will enjoy typical Viennese culinary delights at selected stops – which are partly secret, almost forgotten places of the city center. Of course, all of our tours are guided by licensed tour guides who will tell you exciting stories about the culinary side of Vienna. You will experience sightseeing as well as the thrilling history of the city & the culinary side of Vienna tightly and with all your senses.
10. Chocolate Museum
The Chocolate Museum is presenting on the 2000m² history of chocolate, cocoa farms, a chocolate gallery with life-size sculptures, interactive chocolate games and the workshops which are already ranked as a most popular chocolate experience in Vienna and perfect for groups.