Top10 Vienna Blog | Vienna Insider Tips and Experiences
Stay tuned with the Top10 Vienna Blog for Vienna Insider Tips and Experiences!

Continue your journey and explore the best things to do in Vienna, amazing restaurant tips, current events and more insiders about Vienna. #top10vienna. All articles are written by our Top 10 Vienna City Scouts and Affiliates and represent our own opinion and experiences in the most liveable city in the world.


Vienna Sightseeing and Bar Hopping Tour
Visiting Vienna only for a day or two and want to explore the Viennese bar culture while sightseeing? Take a look at our
Ultimate Vienna Sightseeing and Bar Hopping Tour
that will get you both without cutting short. And NO, we are not talking about a Pub Crawl. if you are more interested in a classic Pub Crawl, go visit
www.pub-crawl-vienna.com
.
The top attractions in the city center of Vienna can easily be explored by foot and there are a lot of great bars along the way as well. We don't need to mention, that there is a lot to see and do in Vienna and that even a week in Vienna won't quite cut it. When planning a visit for a short period of time however, it's essential to be efficient with your time and to know what you want in advance.
1. Vienna Naschmarkt
Take the metro line U4 to Kettenbrückengasse and exit at "Naschmarkt", Vienna's oldest farmer's market and one of the coolest places to be in Vienna. Naschmarkt is filled with Oriental and Mediterranean restaurants, food stands and stores. Stroll through from the beginning downwards and try some of the foods, like hummus, falafel, kebabs and much more. Along the way you will find several wine bars as well.
2. Secession and Karlskirche

At the end of Naschmarkt you will see a beautiful building with a golden cupola on your left. That's Secession, a contemporary art museum. There you can make a trade-off: visiting the museum or continuing to HEUER am Karlsplatz, a restaurant and bar with nice outdoor seating with a view of the Karlskirche (St. Charle's Church).
Photo ©: 123rf.com
3. Vienna State Opera
Continue on Kärntner Strasse towards the city center and you will see the Vienna State Opera on your left. Make sure to take a full picture of the front of the Opera House before you cross the Wiener Ringstrasse. Then leave the Opera House on your left and continue on Vienna's most famous shopping street, the Kärtner Strasse. You will pass one of the oldest and most prestigious hotels in Vienna, Hotel Sacher and its Café Sacher. Mainstream tourists would stop here for a Melange (Viennese coffee with milk foam) and the original and delicious Sacher cake, your choice!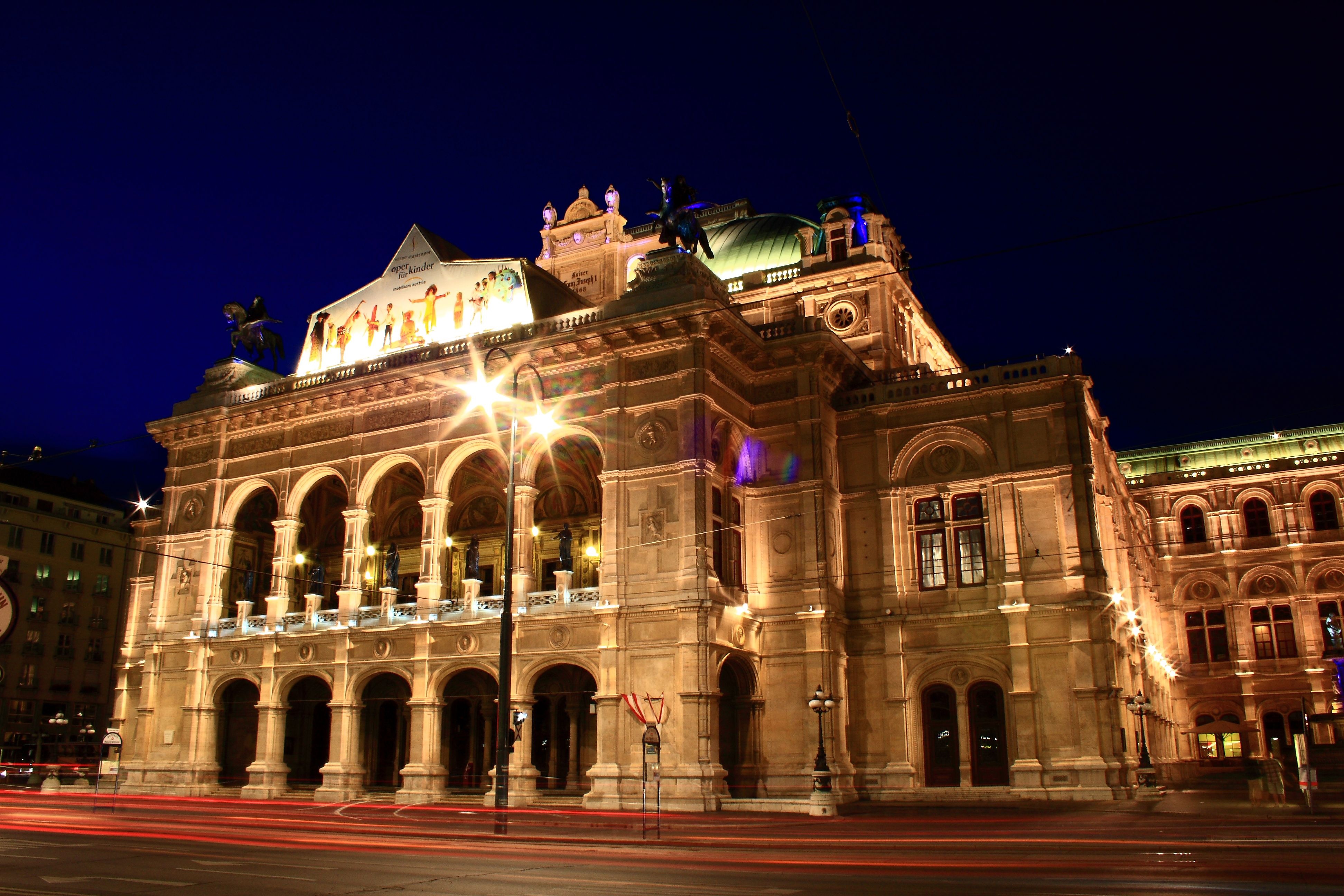 Photo ©: 123rf.com
4. Albertina
Behind Hotel Sacher in Maysedergasse you will find the charming Australian Pub Crossfield's. From its outdoor terrace you will be able to take a glance at Albertina, a beautiful art museum. Here we suggest to make a trade off: Let the artsy part of your group visit the museum while you enjoy a cold Australian beer. Right next the Albertina you will see a typical Austrian sausage stand, but this one isn't just any... it's Bitzinger, one of the best and definitely the most popular "Würstelstand" in Vienna. Bitzinger serves street sausage to business people, visitors of the Vienna State Opera until late. You should try a Käsekrainer while you're there.
5. Burggarten and Palmenhaus

Continue back to the Ringstrasse leaving the Vienna State Opera to your left (now you have almost circled the Opera House) and take a right to enter Burggarten. In the former private garden of Austria's emperor Franz Joseph, you will see several monuments including Kaiser Franz Joseph's and Wolfgang Amadeus Mozart's. At the back of Burggarten, the Palmenhaus (Butterfly House), a former tropical house overlooking a large pond, serves excellent food and drinks today.
6. Maria-Theresien Platz and Museumsquartier MQ
When exiting the park, cross the Wiener Ringstrasse to visit the two museums, the Kunsthistorische Museum (Museum of Art History) and the Naturhistorische Museum (Natural History Museum). Both buildings look identical and face each other across Maria-Theresien Platz. Walk over Museumstrasse to reach two more museums, mumok and Leopold Museum, both as well as the popular outdoor spot Museumsquartier MQ. Again a good point to split the group and let everyone choose what they want to see. You can get a cocktail here at one of the many pop-up bars if you are not into museums.
7. Heldenplatz and Hofburg
Walk all the way back over Maria-Theresien Platz to reach Heldenplatz (Hero's Square) and Vienna Hofburg. The Vienna Hofburg hosts the Imperial Apartments (Kaiserapartments), the Imperial Treasury (Kaiserliche Schatzkammer), the Sisi Museum the Austrian National Library, the Spanish Horse Riding School and is home of the Austrian President. Practically you can spend an entire day at the Hofburg. Our tour however, continues towards Herrengasse at Michaelerplatz (after you have taken a picture of one of the most instagramable buildings in Vienna, the Michaelerkuppel) and keep walking until you reach Palais Ferstel. In the tiny passage you will find a few nice stores and bars. Take a break at Vulcanothek and have a glass of wine and a selection of Vulcano ham.

8. Rathaus and Burgtheater

From Ferstel Passage continue back on Bankgasse until you see the Burgtheater on your right. Across from Burgtheater you will see the Vienna City Hall (Rathaus) with its huge square in front of it. The Rathausplatz is used for various events throughout the year, such as Christmas Market, Ice Skating Rink, Spring Festival, Film Festivals and many others. Depending on your time of travel you might catch some event of interest. If not, walk up to the middle of the square to capture the perfect picture of the Rathaus as well as of the Burgtheater at your back.
10. Stephansplatz

Head back into the city center to visit the beautiful Stephansdom (St. Stephen's Cathedral). On your way you will pass Molly Darcy's, one of Vienna's most popular Irish Pubs as well as Zattl, a nice Austrian beer garden in the city center. Continue down towards Freyung and pass "Am Hof" until you reach "Am Tuchlauben" and "Graben". Take a look to your right and take a picture of the Michaelerkuppel and the crowd in front of it. You are now in the most exclusive area in Vienna, where you can find plenty high-end jewelry stores and designer stores. Continue Graben and pass Peterskirche (Peter's Church) and the Pestsäule until you reach the Stephansdom. Even though you will encounter several great bars and restaurant along the way and around Stephansdom, we recommend to enjoy the end of your tour at Lamée rooftop bar (after visiting Stephansdom of course). You will have the best view of Vienna's ensemble from up there.
We have reached the end of our Vienna Sightseeing and Bar Hopping Tour and hope you have enjoyed it! Please leave comments and share if you liked our tour.

If you have some extra time and energy left however, walk down Rotenturmstrasse towards Donaukanal to find a wide selection of restaurants and bars. If it's a sunny day, we recommend to visit Donaukanal and watch the sunset from a "Vienna Beach Bar" like Tel Aviv Beach, Adria Wien or Strandbar Herrmann.

You might also like: