Top10 Vienna Blog | Vienna Insider Tips and Experiences
Stay tuned with the Top10 Vienna Blog for Vienna Insider Tips and Experiences!

Continue your journey and explore the best things to do in Vienna, amazing restaurant tips, current events and more insiders about Vienna. #top10vienna. All articles are written by our Top 10 Vienna City Scouts and Affiliates and represent our own opinion and experiences in the most liveable city in the world.


Best Vegetarian Restaurants in Vienna
Top10 Vienna presents some of Vienna's best vegetarian Restaurants
You are visiting Vienna as a vegetarian and want to know where to get the best vegetarian or even vegan food? That's not a problem at all: Vienna has so many delicious vegan options, which will be definitely a reason for you to visit Vienna again. The vegan trend of the last years has reached Vienna as well and some amazing vegetarian and vegan restaurants opened up. To facilitate your restaurant choice, we have selected some of the best vegetarian restaurants in Vienna for you.
Harvest Bistrot
Since its foundation in 2012,
Harvest Bistrot
, located near the subway station "Schwedenplatz" (U1 & U4), is not only frequently visited by locals, but is also popular among tourists. Vegans as well as non-vegans love the cozy little restaurant for its delicious vegan dishes and its easygoing atmosphere. If you want to try a vegan variation of typical Viennese food, Harvest Bistrot is your place. Besides the classical "Wiener Schnitzel", it also offers "Geröstete Knödel" (roasted dumplings) and our absolute favorite: the "Rahmgulasch". Between 10am and 4pm on weekends you will encounter the best vegan brunch in Vienna at
Harvest Bistrot
! But don't forget to make a reservation ahead of time as
Harvest Bistrot
is very popular among local Viennese.
Harvest Bistrot, Karmeliterplatz 1, 1020 Wien |
http://harvest-bistrot.at
Baschly
Near the University of Vienna, you will find a small bistro called Baschly, serving the best Israeli food in Vienna. It offers so many different vegetarian plates, such as salads, wraps and pita breads as well as many vegan options. Vegans as well as non-vegans eat there regularly because of its modern ambiance and its great dishes.
Baschly
is known for its tasty falafels, which you should really try. We also recommend trying the different hummus variations such as their delicious curry-hummus or wasabi-hummus, if you like it hot. If you are in a hurry, don't worry,
Baschly
offers all dishes as takeaways as well.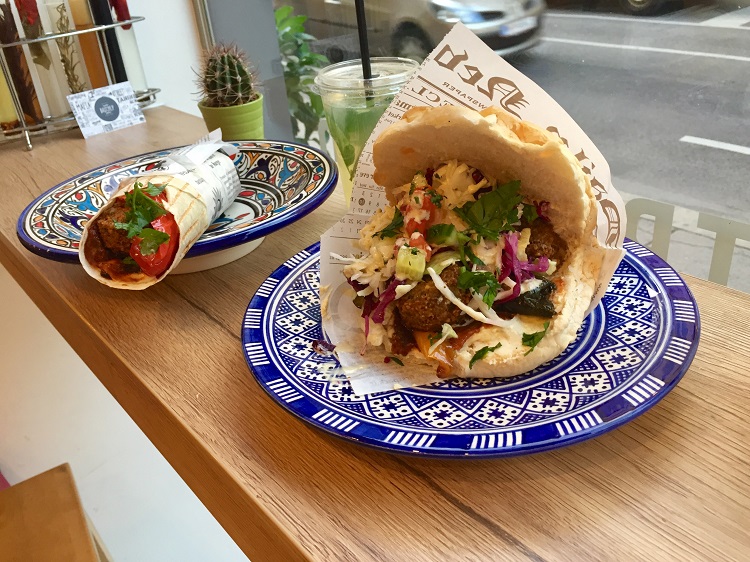 Baschly, Schwarzspanierstraße 22, 1090 Wien |
http://www.baschly.com
Kichererbse
Kichererbse
is a lovely little bistro in the 13th district of Vienna. Every day
Kichererbse
offers different tasty homemade dishes. All ingredients used are seasonal and organic. If you crave for something sweet after your meal, you should try their self-made cakes. We declared
Kichererbse
as one of the best vegetarian restaurants in Vienna not only because of its healthy and delicious food offering, but also because the bistro is charming, affordable and down to earth.
Kichererbse
is also a small supermarket offering organic foods and nutrients.
Kichererbse, Speisingerstrasse 38 1130 Wien |
http://www.kichererbse.at
Veggiezz
Veggiezz
is a vegan restaurant chain currently running 3 restaurants in Vienna. Two of them are located in the 1st district of Vienna and another one in the 9th district. We love the serene atmosphere and its modern, but cozy interior design.
Veggiezz
offers a variety of different salads, soups, healthy food bowls as well as their self-created Quinottos. Quinottos are Quinoa bowls served with vegetables, mushrooms or sweet potatoes - our absolute favorite: Quinotto with sweet potatoes and mushrooms. If you feel like having a typical Austrian dish, you should try their Tyrolean roasted potatoes with seitan-sausages. It is usually served once a week, so you should have a look on their website to see the week's
menu
. Other days,
Veggiezz
usually serve something more oriental, like Indian curry or a vegetarian Chinese dish. Hard to decide what to take? The good thing is, it's nearly impossible to make a bad decision, as all dishes we have tried so far are tasty.
Veggiezz, Salzgries 9, 1010 Wien | Opernring 6, 1010 Wien
, | Alserbachstraße 30 1090 Wien |
https://veggiezz.at
OBEN bar & kitchen

The restaurant
OBEN bar & kitchen
is located on top of the Viennese main library at Urban-Loritz-Platz in the 7th district. The about 200 steps will lead you directly up to the rooftop restaurant, however you can access the restaurant through the library as well.
OBEN
, as the name suggests (German word for up), offers a great view. The restaurant's laid back atmosphere is especially popular among younger adults.
OBEN
focuses on local and organic ingredients. However, OBEN also offers meat dishes, the majority of its menu are vegetarian. Therefore,
OBEN
is a great compromise for you and your non vegetarian friends for a joint dinner without trade-offs for anyone.
OBEN bar & kitchen, Urban-Loritz-Platz 2, 1070 Wien |
https://oben.at
All restaurants have been personally tested and approved by our city scouts and represent our personal opinion. We hope you like our selection of the best vegetarian restaurants in Vienna.
You might also be interested:
- Top10 Vegetarian Restaurants

-
Best Veggie Burgers in Vienna
Published: October 2017
City Scout:
Anni
Photocredits ©: Top10 Vienna