Top10 Vienna Blog | Vienna Insider Tips and Experiences
Stay tuned with the Top10 Vienna Blog for Vienna Insider Tips and Experiences!

Continue your journey and explore the best things to do in Vienna, amazing restaurant tips, current events and more insiders about Vienna. #top10vienna. All articles are written by our Top 10 Vienna City Scouts and Affiliates and represent our own opinion and experiences in the most liveable city in the world.


Vienna City Beach Club - Vienna waterfront location
The
Vienna City Beach Club
(short: VCBC) doesn't just have a cool name, it also meets expectations when it comes to a cool outdoor & waterfront location in Vienna!
VCBC
is definitely one of the coolest outdoor locations in Vienna during summer, offering top culinary, sport activities, events & parties and a weekend brunch.
Vienna City Beach Club
is the perfect place for everybody who wants to catch some beach feeling on a hot summer day in the city or relax outdoors after a long workday. VCBC is located directly at the New Danube. You can get there by taking the U2 subway to "Donaustadtbrücke" and then have a nice ten minutes' walk along the Danube until you reach the Beach Club. There are not many locations in Vienna that offer such a broad spectrum of activities in one place like the
Vienna City Beach Club
. First, they have a great culinary offer for their guests with two separate bars. At the "Barfussbar" (barefoot bar) you can choose from many tasty cocktails and long drinks. It is perfect for taking off your shoes and chill out on a beach chair in the sand, making you feel like you are on vacation. If you get hungry, "Hafenbar", offers delicious meals, including burgers, sandwiches, salads and cool drinks. You can also enjoy the "Donau Brunch" (Danube Brunch) every Sunday and Holiday from May till mid-September. The Donau Brunch, with a rich brunch buffet on the White Pearl boat, provides a true vacation feeling –
wake up, head to the beach and stop for brunch.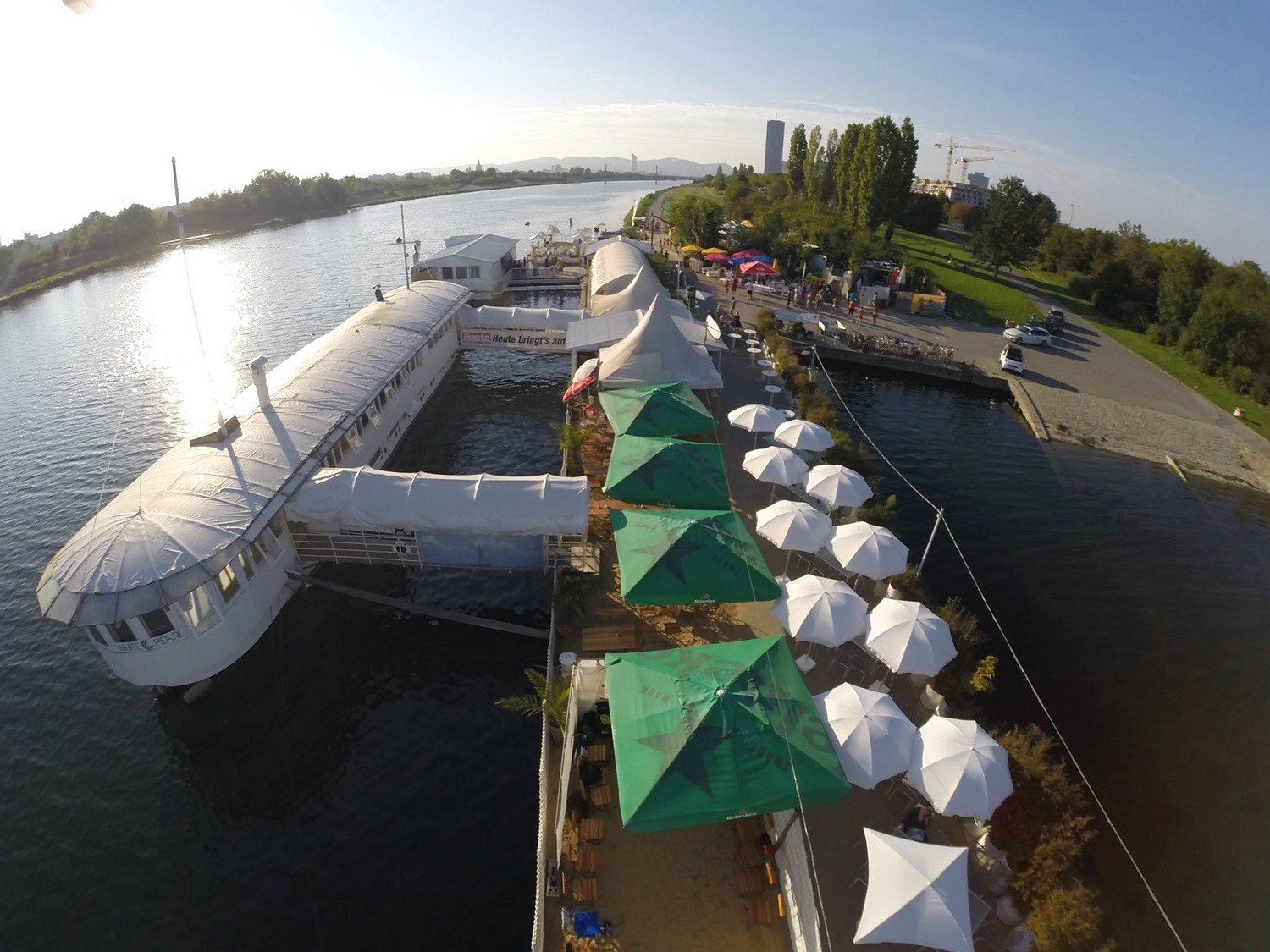 If you want to spend a sunny day playing sports,
Vienna City Beach Club
is the right place for you. The
VCBC
has beach volleyball courts which you can rent, a Stand Up Paddle station and a separated beach to relax. The New Danube is a very popular place for people in Vienna to go swimming and cool down on a hot summer day.
The
VCBC
is also an excellent place for a beach party. They are hosting events every weekend with a great DJ Line-up, on Fridays and Saturdays the Club is open till 3.30am. The music goes from Tropical and Latin music to Deep House, making it a place to be in Vienna for everybody. If you want to spend a special night or day with your friends, you can rent your own VIP Area and enjoy an exclusive beach program.
From birthday parties, to business meetings and even weddings, the
Vienna City Beach Club
is a top location in Vienna, providing an amazing outdoor area in a beautiful setting combined with a top culinary offer, and the best part is: It is directly on the water. You can reserve a part of the beach or a part of their restaurant and have a great time there. For more information about their location, catering service and activities visit the
VCBC website
.
Have a great time and end-of-summer in Vienna and enjoy sunny days in a top outdoor location in Vienna @ Vienna City Beach Club!
Photcredits: © Top10 Vienna