Top10 Vienna Blog | Vienna Insider Tips and Experiences
Stay tuned with the Top10 Vienna Blog for Vienna Insider Tips and Experiences!

Continue your journey and explore the best things to do in Vienna, amazing restaurant tips, current events and more insiders about Vienna. #top10vienna. All articles are written by our Top 10 Vienna City Scouts and Affiliates and represent our own opinion and experiences in the most liveable city in the world.


Vienna Challenge #23
You are celebrating your birthday, your bachelor's party or just looking for a fun way to hang out with your friends drinking? We have got you covered. The name Challenge #23 has been initiated by a group of Top10 Vienna City Scouts and consists of drinking 23 beers in all 23 districts of Vienna. Easy right? Well, not exactly, let us tell you about our experience. Known under the name "Seidltour" in Vienna, we have actually heard of the idea before, decided to give the game a few extra twists and called it Challenge#23. Here is how we did it and how it went: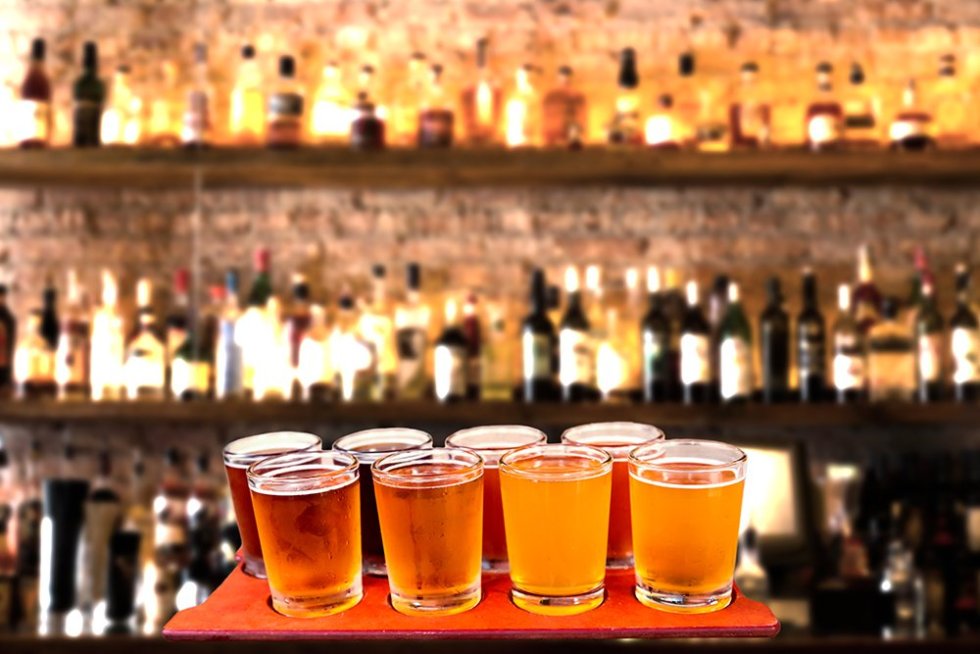 #1: District 23, Liesing
We started our drinking adventure at café S'Beisl at Liesing train station at 10am in the morning. Yeah we usually don't drink at that time, but hey, it's 5 o'clock somewhere. The challenge is daunting and time consuming, so good time management and fast drinking skills are essential. If you want to make the game even more interesting, add some extras to your game, like whoever drinks fastest gets one extra point, whoever finishes last, loses one point. Make sure to assign an official bookkeeper to keep track of everything. We also added a few more rules to the game. If you order a second beer (we are talking small 0,3l beers by the way – we wouldn't recommend trying this challenge with large beers!) while the group is still working on the first beer, you get 10 extra points. At the end of the day, assuming all participants made it to the finish line, the person with the most points wins!
#2: District 12, Meidling
Continuing our tour about half an hour later, we took the train from Liesing to Meidling and went to Golden Harp for our second beer. Even though we all like Starobrno beer, maybe you can select a lighter beer for this particular purpose.
#3: District 13, Hietzing
Walking down Meidlinger Hauptstrasse towards U4 station Meidlinger Hauptstrasse we took U4 to Hietzing and had our third beer at Brandauers. Their own brew is excellent.
#4: District 14, Penzing
Taking U4 back one stop to Schoenbrunn, no we didn't have time to visit Schoenbrunn Palace, we pounded our fourth one at the Wuerstelstand on the corner of Linke Wienzeile and Winckelmannstrasse, on the south end of Auer-welsbach-Park while waiting on the bus. From here on the bus 10A led us directly to our next five stops.
#5: 15, Fuenfhaus
At this point of time, timing was perfect. We planned on finishing the first beers quickly to allow some slack for the later ones. We started at another Golden Harp at Johnstrasse for our fifth beer of the day.
#6: District 16, Ottakring
Next we stopped at Café Watt on Wattgasse, which was the route bus 10A was headed for the sixth one.
#7: District 17, Hernals
In fact we walked from Café Watt along Wattgasse directly into the 17thdistrict were we instantly walked into Post Stüberl.
# 8: District 18, Währing
Along the bus' route via Gersthofer Strasse we reached the beer garden and restaurant Centimeter where we stopped for our eight one. At Centimeter we started telling our waiter about our idea and he encouraged us by telling us that he and his friends failed the challenge. Motivated enough, we jumped on bus 10A once again. Discussing our new friend's failure – he and his friends didn't prepare a good route, knowing the outline of Vienna, ticking off the districts by number is geographically not the fastest route.
#9: District 19, Döbling
Sorrounding Tuerkenschatzpark the bus brought us into the 19thdistrict. At this point it was around 1pm and time for lunch. Of course, we combined lunch with a beer, because we had no time to lose. Luckily we found a burger joint called "Grill and More" , and let me tell you the burgers were delicious and exactly what we all needed.
#10: District 20, Brigittenau
We walked to the train station Spittelau and took U6 to Jaegerstrasse into the 20thdistrict. Without a plan, we walked down Jaegerstrasse for a few minutes and stopped at Kent, a Turkisch restaurant, about an hour after our previous beer. It felt like we were starting from the beginning with our tenth beer, so we couldn't keep up with the initial speed anymore.
#11: District 21, Floridsdorf
We walked back to the U6 and headed to Floridsdorf, a part of Vienna, none of us was really familiar. After wandering around, we stumbled upon Segafredo Café and all craved for coffee a lot more than for an eleventh beer. The challenge continued…
#12: District 22, Donaustadt
This was the first time we called an Uber instead of walking back to the subway. As you can see things were starting to get a little harder. The Uber driver was supposed to drop us off at Vienna City Beach Club. However, he passed the exit while listening to "Get Low" by DJ Snake so loudly that he didn't even here any uf us. What an adventure you would say. Well we lost another 30 minutes there, until he finally made it back. At Vienna City Beach Club, the atmopshere was great and some of us were tempted to stay and chill. That's when we called the next Uber.
#13: District 11, Simmering
The Uber driver dropped us off at Servus Grüß Dich, which according to Google was open on Sundays, looked open as well, but was closed. Well on Sundays it closes at 3pm and we all lost complete track of time (It was around 7pm). Of course the Uber driver was gone by the time we figured that out. Looking around, streets seemed empty and no pub was in sight. Until we saw Simmeringer Biergarten around the courner. There, locals befriended us instantly and cheered us on to finish Challenge 23. Some of them even wanted to join the challenge.
#14: District 10, Favoriten

With new motivation, we were all committed to pursue our goal – 23 beers in 23 districts. We ubered again to Hauptbahnhof Wien, were we sat down at a café-bar called Di Lara| Grill & Chill on the streetside of Favoritenstrasse.
#15. District 4, Wieden
This is were the challenge got a little out of control, when someone ordered a second beer at Café Gitarre. Asking ourselves why, some others ordered more beer as well. This would mean, if we completed the challenge, some of us had 24 beers in total and 10 extra points each.
# 16: District 5, Margareten
At this point some of us were starting to get hungry again, so our next beers were accompanied by a nice Wiener Schnitzel at Restaurant Wald/4 ler Stub'n (yes that is how you spell the restaurant).
#17: District 6, Mariahilf
At dinner we were starting to count the beers down – "only 7 more to go" we told the bartender when ordering at Public – theplacetobe. Our drinking speed slowed down massively, where the bartender checked on us several times and we were all still sipping on our 0,3l beers.
#18: District 7, Neubau
Apparently Golden Harp is one of our favorite pubs in Vienna, or they were just all located conviently on our road. Entering the third Golden Harp on Schottenfeldgasse and ordering the 18thbeer of the day, we gathered new motivation, seeing the first people to start partying.
#19: District 8, Josefstadt
Following Schottenfeldgasse towards the 8thdistrict, the street turns into Albertgasse, we entered Polkadot and barely found seating. Half we done, we looked at each other and said: "4 more to go!"
#20: District 9, Alsergrund
Again someone got hungry and we had to stop for Kaesekrainer-midnight snack. Lucky us, he just sold his last sausages and we had to wait for the next round, 15 minutes. At this point, we all just wanted to finish soon. Café Auszeit was right in front of us and had the entire bar for ourselves. At this time it was already around 1am.
#21: District 2, Leopoldstadt
From here we had to get to the 2nddistrict, which was quite a walk and we all just wanted to finish. Right across from the Danube Canal, we encountered a small pub called Berger's Bar, one of few places that were open after 2am were we sipped our beers.
#22: District 3, Landstrasse
At that point of time (it was already past 2.30am) it wasn't too easy to find open bars. We have to mention, that we did our challenge on a Sunday followed by a holiday on Monday, so maybe that contributed to the fact that a lot of places were closed. So we quit searching and went straight to a Kebab House at Wien Mitte.
#23: District 1, Innere Stadt
1.Playing "We are the Champions" while marching in the Bermuda Dreieck, we knew, we did it! Any last beer couldn't ruin our victory. And it didn't. At 3.30am the bouncers decided to let us in to
Gnadenlos
, after having told them about our day. We ordered the last 3 beers, when the waitress said: "We don't have small beers, only large ones". We looked at each other, shrugging our shoulders and ordered 3 large beers. Because it was the last one, we figured it didn't matter anymore. Celebrating our victory, we sipped on the last beer of the night (we can't speak about enjoying anymore at this point) and called it a day, a successful day!
If you enjoyed reading about our challenge, made similar experiences or tried out our tour, please comment share and tell your friends about it!
You might also like:
-
Vienna Sightseeing and Bar Hopping Tour