Top10 Vienna Blog | Vienna Insider Tips and Experiences
Stay tuned with the Top10 Vienna Blog for Vienna Insider Tips and Experiences!

Continue your journey and explore the best things to do in Vienna, amazing restaurant tips, current events and more insiders about Vienna. #top10vienna. All articles are written by our Top 10 Vienna City Scouts and Affiliates and represent our own opinion and experiences in the most liveable city in the world.


YOU-Vienna | Insider-Restaurant of the Month
Every month in 2017 we are presenting you one insider restaurant in Vienna. Upon our research, we select from the best restaurants in Vienna, the newly opened restaurants in Vienna and those restaurants in Vienna that we consider absolutely worth visiting.
Our Insider Restaurant Tip of the Month November:
Restaurant YOU Vienna
At
YOU
, Vienna's rather new restaurant and cocktail bar, it's all about YOU!
Restaurant YOU
opened in 2016 and is located inside the Hotel Le Meridien on the prominent Wiener Ringstrasse. The restaurant offers lunch, dinner, drinks & music not just for hotel guests of Le Meridien but also for local Viennese. The concept of the restaurant has been convincing enough for the Hotel Le Meridien to move its main entrance from the busy Wiener Ringstrasse to the side street of Robert-Stolz Platz.
YOU
portrays a contemporary mix of modern architecture and casual dining which is very well received by locals as well as tourists.
YOU
offers daily business lunches starting at only EUR 7,-. The highlight of
YOU
is definitely its Aperitivo, an Italian inspired after work that is so far unique in Vienna. At Aperitivo you can choose between an Italian, a Spanish or an Oriental appetizer plate and all YOU can drink Aperitivos, such as Hugo, Martini bianco Tonic, Aperol Spritz, Prosecco and many more. The after work special Aperitivo at
YOU
is offered from Monday - Saturday from 5pm to 7pm and costs EUR 18,- per person.
YOU
is the perfect place for dinner and drinks in the city center of Vienna.
YOU's
dinner menu is pretty special as well, most dinner plates are offered for EUR 15,-. Instead of fine dining tables with 5 sets of silverware,
YOU
offers bar tables and lounges. Even though it might not be as comfortable, the casual "dinner & drinks" atmosphere at
YOU
is
especially appealing to younger guests. A DJ in the middle of the restaurant attracts the attention of gusts while playing lounge music. YOU is a great example that nowadays you don't have to strictly classify yourself as a restaurant or a bar, but you can be both.
YOU
serves amazing drinks and food and portrays a very special "dinner & drinks" flair.
We started off with some great cocktails and a rather unusual cover - instead of bread and butter, we had Edamame with Yuzo-mayo & Fleur de Sel, which was very interesting and actually really good. As main course we ordered the Crispy Grilled Octopus and Tagliata, an Italian version of a short grilled Entrecôte, both dishes for EUR 15,-. The plates were nicely prepared and really yummy! Take a look...
As in most fancy restaurants, plates aren't loaded, but YOU does serve decent portions, absolutely worth the price. After our main course we were really tempted by the dessert menu. As soon as we saw the waitress walking by with some desserts in her hand, the decision had been made. We chose Burned Chocolate and Mango Crumble. Both dishes appeared to be made in-house and prepared on the minute. Take a look at these mouthwatering pictures.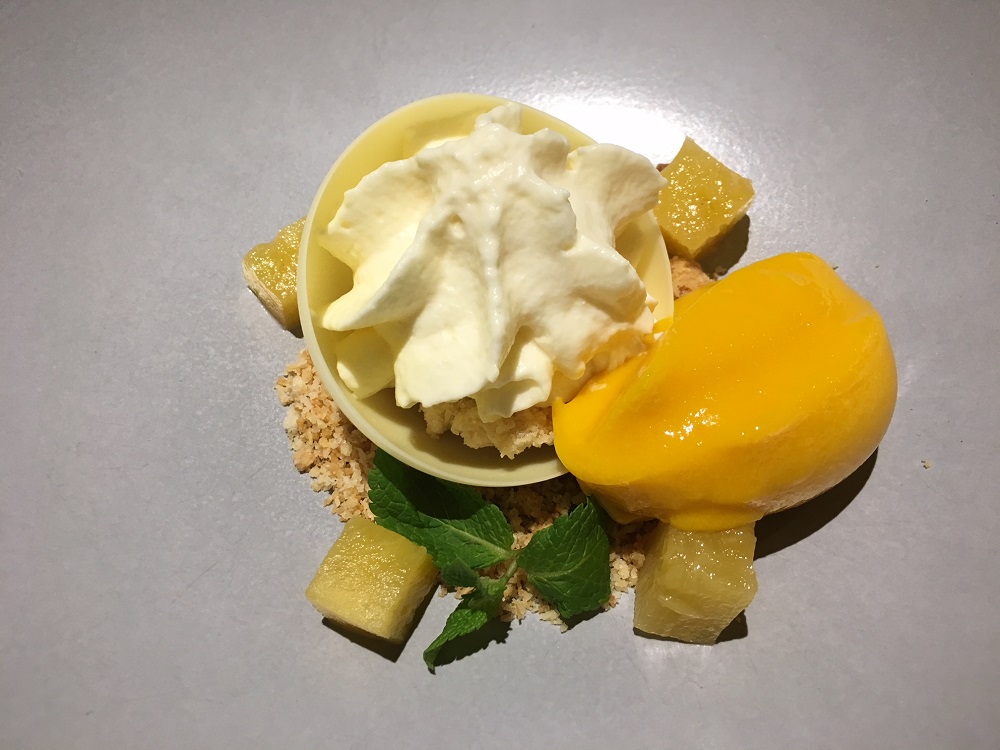 To sum up our experience at
YOU
, we really recommend this place either just for drinks at the bar, a casual dinner or for the after work Aperitivo, daily from 5pm to 7pm. We declared
YOU
our
Insider Tip of the Month
because of its great mix of dinner restaurant and cocktail bar. There are not many "dinner & drinks" places in Vienna, and
YOU
is definitely one of your best "dinners and drinks" choices in Vienna and also counts as one of the best restaurants and bars in Vienna.
YOU Vienna
, Opernring 13, 1010 Wien |
Top10 Vienna Insider Restaurant of the Month November


You might also be interested in:
- Insider Tip October
- Insider Tip September
- Top10 Insider Restaurants
Published: November 2017
City Scout:
Tom
Photocredits ©: Top10 Vienna