Top10 Vienna Blog | Vienna Insider Tips and Experiences
Stay tuned with the Top10 Vienna Blog for Vienna Insider Tips and Experiences!

Continue your journey and explore the best things to do in Vienna, amazing restaurant tips, current events and more insiders about Vienna. #top10vienna. All articles are written by our Top 10 Vienna City Scouts and Affiliates and represent our own opinion and experiences in the most liveable city in the world.


IKI: Top10 Vienna Insider Restaurant of the Month
IKI: Top10 Vienna Insider Restaurant of the Month
Our search for a new Top10 Vienna insider restaurant has led us to
IKI
, a contemporary Japanese restaurant with unique flair.
IKI
is located in a new business area of Vienna called "Am Erste Campus" where gradually more businesses are settling. So far dining options in the immediate office area are rather scarce with a few exceptions.
IKI
has definitely recognized the growing demand for business lunch and fine dining and has developed an amazing concept to perfectly serve those needs. We visited
IKI
in May 2017 and were positively surprised not only by the amazing food but also its flair. Young professional and friendly staff welcomes you and escorts you to your table, a custom in Vienna we usually only see in high-end restaurants. The lighting and interior design contributes to a great dining environment and makes you instantly feel welcome.
We started our night with some home-made lemonades while browsing menu. In contrast to typical Asian restaurants with huge menus,
IKI
has fewer, but well selected dishes on its menu. We recommend everyone to try the Surf & Turf Roll. The Spicy Tuna Roll was actually just as good, but we consider the Surf and Turf Roll more creative. We then ordered Beef Tataki Don, a rice bowl with beef and veggies. After the motto handmade with love, IKI offers fine Japanese specialties including contemporary sushi rolls. In addition to creative sushi rolls, IKI offers hot meals like typical noodle soups and donburi as well.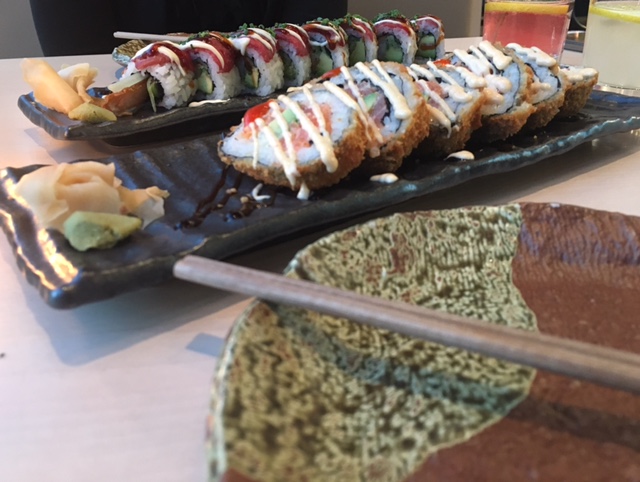 IKI offers amazing business lunches as well as a very special dining experience attracting business people, tourists as well as locals seeking a fine contemporary Japanese dinner.
IKI
already counts to the most thriving and best restaurants in Vienna and also made it onto our list of Top10 Asian restaurants in Vienna as well as Top10 Insider Tips in Vienna. We consider IKI as one of the best business lunch in Vienna, especially in the area of "Erste Campus" as well as an insider tip of dinner in Vienna.
If you haven't been to the area yet, you should definitely check it out. Something bis is arising at "Erste Campus". Also
IKI
is only a few walking minutes from Belvedere Castle, so you can combine your sightseeing with a lunch or dinner.
The mix of fine contemporary dining and casual atmopshere makes IKI our Top10 Vienna Insider Restaurant of the month May!
We will definitely be back soon to try out ore of IKI's sushi rolls and Danburi!
IKI
, Top10 Vienna Insider Restaurant in Vienna, Am Belvedere 1, 1100 Wien
You might also be interested in:
-
Top 10 Vienna Insider Restaurant of the Month April
-
Top 10 Vienna Insider Restaurant of the Month March
-
Top 10 Vienna Sushi & Asian Restaurants
-
TOP10 VIENNA INSIDER TIPS
Photos: Top10 Vienna
Published: May 2017